Kachi Biryani Recipe
Ingredients:-
• Rice: ½ kg• Chicken: ½ kg cut into small pieces• Red chili powder: 2 ½ tsp• Garam masala: ½ tsp• Yogurt: 1 cup• Zafran, kewra essence, yellow colour: as required• Milk: ½ cup• Onion: 2 thinly chopped• Ginger/ garlic paste: 1 tsp• Salt: to taste• Coriander, mint leaves, green chilies: for flavor and garnishing as required.
Food preparation:
1. Boil water for rice by adding cinnamon 1 stick, 4 big cardamoms and black cumin seeds 1 tsp and salt as required.
2. In a sauce pan heat oil and fry onion till brown and keep a side, crush them later.
3. In chicken pieces add yogurt, ginger, garlic, red chili powder, salt half onion, half garam masala, chopped coriander, mint and green chilies and marinate for 2-4 hours so that all ingredients are mixed well in the chicken.
4. Now add rice in the boiling water and boil till rice is half tender remove and drain.
5. In a sauce pan, spread layer of rice and then crushed onions then mint leaves and chopped coriander and green chilies.
6. Repeat layer after layer.
7. Later mix zafran and food colour in milk and add in rice.
8. Now add kewra essence as well.
9. Now cover the sauce pan with a lid and seal with flour from all sides.
10. Cook for 5-7 minutes on high heat.
11. Then cook on low heat for 20 minutes.
Nawlakha Pullao Recipe
Ingredients:-
• Rice ½ kg• Chicken boneless ½ kg, make cubes• Ginger/ garlic paste 1 tsp• Salt to taste• Onion 2 medium, thinly chopped• Roasted cumin powder 1 tsp• Garam masala 1 tsp• Oil 1 cup• Red chili powder 1 tsp• Pistachios 1 tsp• Raisins ¼ cup• Lemon juice 1 tsp• Chicken stock ½ cup• Tomatoes ¼ cup, cut into small cubes• Yoghurt 1 cup, beaten• Carrot ½ cup, cut into small cubes• Peas ½ cup• Potatoes ½ cup, boiled and cut into small pieces• Almonds ¼ cup, peeled• Cashew nut ¼ cup

Food preparation:
1. Heat oil in a wok and fry onions till golden. Remove half of the onion.
2. In the remaining onion add chicken, ginger/ garlic paste and fry.
3. Now season with red chili powder, cumin powder and salt.
4. Now add chicken stock in it and cook till chicken tenderize, add all the vegetables in it and cook for 5 minutes.
5. Now add rice and 1 cup water and let it cook.
6. When rice tenderize, keep covered with a lid on low fire for a few minutes and sprinkle lemon juice and brown onion on top.
7. Garnish with pistachio, almonds and raisins.
8. Serve with salad and raita.

Soya Rice Recipe
Serves 4
Ingredients:-
• 2 cups rice, washed & soaked for 10 minutes• 1 onion, thinly sliced• 2 green cardamoms• 20 Soya nuggets• 4 tbsp coconut milk powder, mixed with 4 cups of water• 6 green chilies, thinly sliced• 2 cloves• 2 bay leaves• 4 cloves garlic, thinly sliced• Chopped mint leaves, for garnishing• Salt to taste• 1 cinnamon stick• 4 tbsp Oil
Method:
1. Pressure-cook soy till soft. Strain & keep aside.
2. Strain rice & cook in coconut milk & keep aside.
3. Heat oil in a pan. Sauté cardamom, cloves, cinnamon, stick & bay leaves.
4. include garlic, green chilies & onion fry till golden brown.
5. Add Soya nuggets & cook for another five minutes.
6. Add cooked rice, adjust salt & mix well.
7. Garnish with mint & serve.

Brown Cinnamon Rice ( Sweet )
Ingredients:-
• Brown Rice 2 cups• Ground cinnamon ( Dalchini ) 1.5 tsp• Almond Chopped half cup
• Dried currant ( Kishmish ) Half cup• Water 5 Cup• Sugar to taste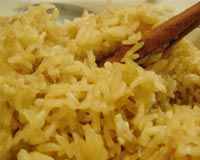 Method:
1. Boil water in a pan and add sugar to it.
2. Include brown rice to the above and cook it over medium flame till rice turn tender.
3. Keep it covered for 15 minutes, put off the flame.
4. Include dried currants, almonds and grounded cinnamon to the rice. stir it.

Panchrangi Kichdi / Kichri Recipe
Ingredients:-
• Turmeric powder Half tsp• coarsely chopped onion 200 gms• Black gram (whole Urad Daal) 100gms• Kidney beans (rajma) 100 gms• Black-eyed beans 100 gms• Lentil (masur daal) 100 gms• Green gran (whole moong daal 100 gms• Basmati rice boiled 500 gms• Chopped garlic 100 gms• Cumin seeds (zeera) 50 gms• Chilies 6 gms• Oil or ghee 4tbsp• Salt and pepper to taste
Method:-
1. Add turmeric powder and salt to the lentils and cook till done.
2. Heat ghee in a wok and splutter cumin seeds.
3. Include remaining ingredients, except rice and lentils and sauté for 2 to 3
minutes gently or still slightly crispy.
4. Add rice and lentils in it.
5. Server Hot with Raita.



Saudi rice and meat


Ingredients:-
• Half kg meat, cut into half inch cubes• 3 cups basmati rice, soaked in water for 15 minutes, then drained
• Half tsp dalchini• 1 tbsp ground ilaichi• 2-3 lahsan cloves, minced• Quarter cup raisins
• 2 tbsps tomato paste• Quarter cup chopped onion• Half tsp ground laung• Half tsp salt
• Half tsp ground black pepeer• 1.5 tbsp butter• Quarter cup toasted pine nuts, Quarter cup toasted almonds

Method:-
1. Brown meat, on all sides in 1 tbsp butter.
2. Include seasoning to meat & stir.
3. Pour 3 cups boiling water over the meat.
4. Cover & let cook for one hour on a medium high heat, till the meat is done.
5. Measure the broth left in a measuring cup. Add enough water to make up 3 cups of liquid.
6. Stir onions & lahsan with half tbsp hot melted butter, till slightly brown.
7. Add the meat & liquid to the onion mixture. Stir tomato paste over.
8. Bring to boil then add the rice & raisins.
9. Cover the pen & reduce heat to low. Let cook for 30 minutes.
10. Open the pan & stir just the top layer. See if rice is cooked.
11. You may need to cook, covered, a few minutes longer.
12. Serve hot

Sindhi Biryani Recipe
Ingredients:-
For meat curry
• 1.5 kg Mutton• 1/2 kg Potato, cut into large chunks• 1/2 kg Tomato, chopped• 1 tsp Red chili powder• 4 tsp Salt• 3 Medium onion, Sliced• 2 tsp Garlic paste• 250 gms Yogurt• 250 gms Oil• 6 Green chilies• 2 tsp Ginger• 8 Green cardamoms (Chhoti Ilaichi)• 4 Black cardamom pod (Bari Ilaichi)• 10 pieces Black pepper• 1 tsp Cumin seed• 10 Clove• 1 Cinnamon stick (Dalchini)• 2 Bay leaf (Tez Patta)• 2 tbsp Coriander leaves• 10-15 Prune (Aaloobukharay)

For rice preparation
• 1 kg Basmati rice, soaked in water for at least 1/2 an hour• 3 tsp Salt• 3 Bay leaf• 3 Cinnamon stick• 2 Black cardamom pod
For final mixing
• 2 tbsp Mint leaf• 2 pinches Yellow food coloring
Method:-
There are three steps to make Sindhi Biryani
Curry preparation, Rice preparation, Mixing method

Curry Preparation
1. Fry the onion in oil until it become light brown and take out one-fourth of it. keep aside
2. In the reaming fried onion Add ginger, garlic, prune, tomatoes, chili powder, salt,
cloves, cinnamon, cardamom, black pepper and cumin seeds and fry until the tomatoes are tender and the water is dry.
3. Now Add mutton, yogurt and water when needed and cook on medium heat till water evaporated and tomatoes are tender.
4. In the meantime boil the potatoes until it becomes half cooked.
5. Finally add green chilies, mint, coriander leaves, and the potatoes to the meat and Simmer for 2, 3 minutes.

Rice Preparation
1. Put the rice in a pot with water and boil it with salt, bay leaves, cinnamon and
black cardamom.
2. Drain the water when rice half done.

Mixing method
1. Layer the curry with the rice in a pot in one on one layers.
2. On top of the last layer Sprinkle the food color, fried onions ( spare earlier ), and chopped mint leaves .
3. Tightly closed the lid and make sure no steam passes out and cook on very low heat until the rice is done
4. Mix it gently before serving.
Serve with Raita.