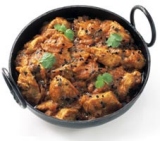 Mutton Karahi Recipe
Ingredients:-
• 1 kg mutton• 1 tomato chopped• 4 tbsp oil• 1 onion chopped• 4 laung• ¼ tsp haldi powder• 1 tbsp dhaniya powder• 1.5 tsp adrak/ lehsan paste• 2 tsp chili powder• ¼ tsp zeera
• 8 whole kali mirch• 2 ilaichi (large & cloves)• Salt (as desired)
Food preparation:
1. Brown the onion in oil. Add water, tomato and masala.
2. Stir till water dries.
3. Include meat and cook till water dries again.
4. Include 4 glasses of water, cover and let cook till meat is done.
5. Server with Nan and green salad
Achari mutton Recipe
Ingredients:-
• 800 gm boneless mutton• 4 Onions• 1 tsp Haldi powder• 1 tsp Red chili powder• 4 Tomatoes• ½ tsp Methi seeds• 7 tbsp Mustard oil• 1 tsp Mustard seeds• 1 tsp Saunf• 5 Laung• 2 tbsp Adrak (chopped)• 2 tbsp Lehsan (chopped)• 8 Red chili• 1 tsp Kalonji• ½ cup Chopped coriander
• 1 tsp Salt
Food preparation:
1. Wash and cut the mutton into 1.5 inch size pieces.
2. Peel and chop the onion. Chop the tomatoes, roast the whole spices separately and grind together coarsely.
3. Heat oil in the thick-bottom pan to smoking point, cool and again heat the oil.
4. Cook the onions till brown. Add the chopped ginger- garlic.
5. Mix well.
6. Include coarsely ground masala powder.
7. Cook for a half minute, stirring all the time.
8. Add mutton, cook on high heat till mutton pieces are well brown add the tomatoes, turmeric powder, red chili powder and salt and mix well.
9. Cook till oil leaves the masala.
10. Add sufficient quantity of water (about 2 ½ cups), bring it to a boil and cover.
11. Cook till the mutton is fully done.
12. Adjust the seasoning and serve hot garnish with hara dhaniya.
Lamb cutlets recipe
This recipe also known as Marinated Lamb Cutlets Recipe
Ingredients:-
• 250 gms Lamb Chops• 10 gms Fresh mint• 100 gms Assorted vegetables, boil and minced• 20 ml Worcestershire sauce• 5 gms Salt• 50 gms Lamb, minced• 15 gms Pepper powder• 20 gms Thyme• 1 Lemon• Mashed potatoes and mint sauce to serve.
Method:
1. Mix minced lamb, vegetable salt, pepper, mint, Worcestershire sauce and thyme.
2. Slit chop along the bone to make a pocket.
3. Stuff a portion of the minced mixture into it. Marinate lamb cutlets with salt, pepper and lemon juice.
4. Keep aside for three hours.
5. Coat with thyme leaves and cook in frying pan on slow flame for 10 minutes.
6. Arrange in a plate, serve with mint sauce, mashed potatoes and boiled vegetable.
Tandoori Lamb chops Recipe
Ingredients:-
• Lamb chops 1kg• yogurt 1 cup• Red chilli 2 tsps crushed• Poppy seeds 2 tsps make a paste• Vegetable oil 200gms(1 1/2 cups)• Green chilies 8-10 make a paste• Ginger Paste 1 tsps
• Black salt 1 tsp• Mango powder (amchur) 2 tsps• Garlic Paste 1 tsps• Tomato 1/2 kg make a paste• Salt To taste• Onions 2-3 medium make a paste
Method:-
1. Clean all the fat from chops and wash them. Then mix all the above
ingredients and oil in the yogurt, mix well and marinate chops for at least 5 hours.
2. Now chops are ready to cook. You can cook them in a grill or in a frying pan. Just put little bit of oil in the frying pan on low heat.
3. Then put all the chops on it and cover with lid. After five to six minutes change their side and put the lid back on.
4. Let them cook for other 10 minutes then put in a plate and garnish with green coriander.
5. Serve with chutney or sauce.